English Learner Professional Development
CLDE Professional Development Information
To help better support students in Colorado who are English language learners, the State Board of Education established requirements for educators to complete 45 clock hours of CLD professional development. These 45 clock hours can be included in the 90 clock hour relicensure commitment. There are many pathways for educators to complete this one time requirement. For more information about options in Lewis-Palmer School district or questions about the details of meeting this requirement, please contact Tiffany Brown at tbrown1@lewispalmer.org.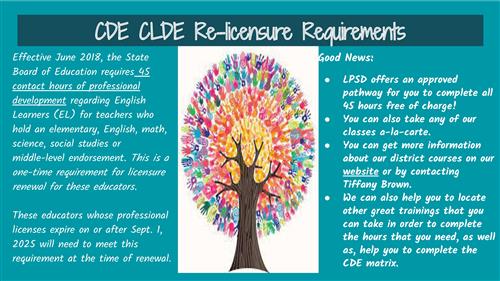 CLDE PD Requirements - Information for Educators
The following links provide information from CDE about licensure renewal as well as CDE-approved PD opportunities that meet the recertification standards.
Lewis-Palmer CLDE Professional Development Plan
The following plan outlines how Lewis-Palmer is supporting educators as they work to meet these requirements. LPSD courses listed will be offered both online via Canvas or through in-person boot camps. Participants can sign up in Frontline one month prior to class start date. Online Canvas courses are eight weeks in length and have reading requirements as well as weekly discussions. Course work is asynchronous within the listed course dates. For participants who prefer a face-to-face model, 4-day summer "boot camps" are available that will fulfill 2 credits of the 3 credits required. For the book study courses books will be available for loan on a "first-come, first-serve" basis. The LPSD plan is a combination of (online or in-person) PD coursework along with two additional book studies.

The educator can design the 45-hour requirement in a way that best fits his/her life and learning styles. All 45 hours can be completed with the LPSD PD (free of charge!), or the educator can make a combination plan that could include: parts of the LPSD PD course work, up to 10 hours of work credit, PD offered outside of LPSD (see the CDE Culturally and Linguistically Diverse Recertification PD Opportunities link) and/or previously acquired credit. Just be sure that all parts of the matrix are met. It is the educator's responsibility to complete the requirements and submit the completed matrix to CDE Educator Talent for recertification. Go here for CDE's matrix: Matrix
Please note the numbering of the standards have recently been changed by CDE. Please use this chart to support you when completing the CDE matrix.
Here are the changes
| Old | New Standard Number |
| --- | --- |
| 5.12 | 5.09 |
| 5:13 | 5:10 |
| 5:14 | 5:11 |
| 5:15 | 5:12 |
For additional information please contact Tiffany Brown, CLDE/MTSS Coordinator for Lewis-Palmer School District, 719-785-4204, email Tiffany Brown