A Short History of Lewis-Palmer School District
The following information is an attempt to summarize some of the colorful and storied history of the Lewis-Palmer School District. It also gives an overview of the various building projects over the years and approximate age of each of the district's facilities. Knowledge of the district's past can give us insights to the future. Historical information on how the district has come to its present state gives a perspective on challenges that face the district as it continues to grow.

The original Monument School District #5 was founded August 20, 1874, and was called, "The Lewis School District." School was held in several one-room schoolhouses and served students in 1st through 8th grades. There were no high school grades in Monument until 1917, when a teacher was hired to teach 9th and 10th grades. The latest school house was moved south of the Jarrito Loco Restaurant, off Highway 105 in Monument.

Palmer Lake School began in the late 1800s and was housed in several one-room schoolhouses. Those buildings are still in existence and currently have been remodeled as residences in the town of Palmer Lake. This school also served 1st through 8th grades only.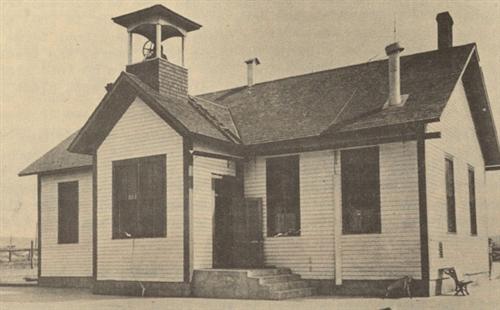 Monument School, built in the 1880's and was in use until the new consolidated school was erected in 1920 Photo courtesy of Lucille Lavelette
In the eastern parts of the district, there were many little one-room schoolhouses serving students through 8th grade who lived on the farms and ranches of the day. Today, one of those little schoolhouses, The Pine Grove School, has been restored to its original condition and can be found on the Kilmer Elementary grounds. It is used by school children today to help them experience and understand pioneer days and how children were educated many years ago.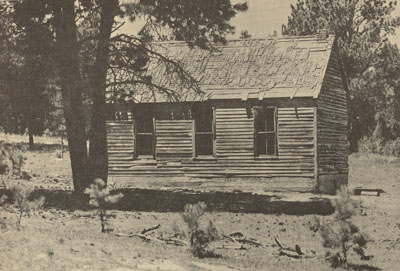 Pine Grove School, donated by a local resident in 1912 Photographed by Randall Teeuwen
In 1920, "The Lewis School" was constructed at 146 Jefferson Street in downtown Monument, and was named for Inez Johnson Lewis. Mrs. Lewis was a teacher at the Palmer Lake School, became county superintendent of schools, and was instrumental in consolidating three small school districts in order to be able to provide high school grades in the Monument area. At the time it was built, the Inez Johnson Lewis School was the "premier" school in the area and became a central meeting place for community functions. The building now houses the district administration offices. The gymnasium was added to this school in 1935, and a cafeteria was added in the early 1950s. The original architectural plans, a picture of Inez Johnson Lewis and a picture of the building's architect are located in the lobby of the building.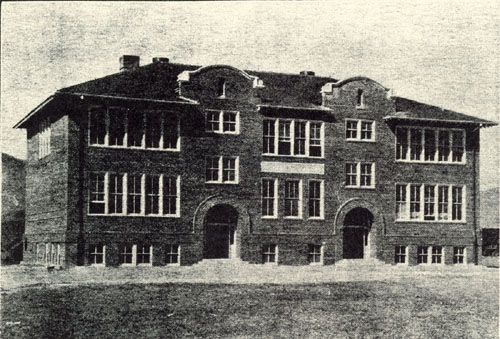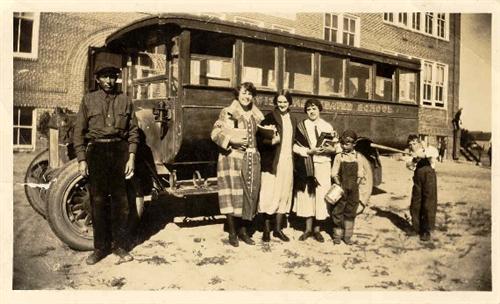 High School Accreditation: In 1921, the Inez Johnson Lewis School had one graduate, Bernice Ingersoll. In 1922, the high school was accredited. Donald McKay, who was the district's superintendent as well as principal and math teacher, was credited with helping to get the high school accredited. The school used gas lights because there was no electricity in Monument at the time. To be accredited, the school had to have electricity, and Mr. McKay was instrumental in getting electricity to the school.

Palmer Lake Elementary School: Palmer Lake School District #33 paid tuition for their high school students to attend the new high school in Monument. In 1935, Palmer Lake built a new elementary school at 115 Upper Glenway. Since then, there have been three additions to the Palmer Lake Elementary School. The school has served elementary students since its inception, with the exception of 1980-1985, when it closed and all elementary students attended classes at the facility on Lake Woodmoor Drive. In 1986, Palmer Lake Elementary was renovated and reopened for elementary students. The latest addition took place in 1992 when the new cafeteria was added.

Consolidation of Districts: On July 28, 1948, Palmer Lake School District #33 and Lewis Consolidated School District #5 of Monument voted to merge. At this election, it was decided to give the combined districts a new number by adding 33 and 5. Thus, the district became #38 and was renamed "The Lewis-Palmer Consolidated Schools."

High School Construction: In 1957, a new high school was built at 66 Jefferson Street in Monument (the current site of Grace Best Elementary). It continued to serve as the district's high school until 1980, when Lewis-Palmer High School opened at 1300 Higby Road in South Woodmoor.

Lewis-Palmer Elementary School: In 1973, Lewis-Palmer Elementary School opened at 1315 Lake Woodmoor Drive as a middle school for grades 4-8. It wasn't until 1980, with the opening of a new high school and the transfer of grades 6-8 to the former high school site, that Lewis-Palmer Elementary School served students in grades K-5. Prior to that time, K-3 elementary students went to school at the Palmer Lake facility.

Lewis-Palmer Middle School and Grace Best Elementary School: In 1980, the old high school became the middle school and continued as that until Lewis-Palmer Middle School opened in 1994 at 1776 Woodmoor Drive. In 1995, after considerable remodeling and renovation, Grace Best Elementary School opened in the old high school and middle school facility at 66 Jefferson Street in Monument as the district's fourth elementary school.

Ray E. Kilmer Elementary School: Growth in the district has affected all grade levels. In 1988, Kilmer Elementary School opened at 4285 Walker Road, east of Highway 83, to accommodate the growth in the eastern part of the district. However, until numbers increased in that area, students from the Monument area were bused to that facility for school. Kilmer grew to nearly 600 students with the addition of three portables in the 2000-2001 school year.

Creekside Middle and Prairie Winds Elementary Schools: Like Kilmer Elementary School, Lewis-Palmer Middle School was also using portables, and was over capacity by over 100 students at the same time. In 1999, a $23 million bond election was passed to build two new schools. Prairie Winds Elementary School opened for the 2001-2002 school year at 790 King's Deer Point East in 2001. This, along with the redrawing of elementary boundaries, brought Kilmer Elementary School's population to a more manageable size, currently serving approximately 325 students. Creekside Middle School, in Jackson Creek, also opened for students in the 2001-2002 school year. The two middle schools provided plenty of room for student growth.

Monument Academy Charter School: In 1996, the Lewis-Palmer Charter Academy opened in District 38. It originally served preschool through 5th grade and evolved to include grades 6 through 9. Known as Monument Academy today, it serves over 1000 students in preschool through 12th grade. The West Campus, located at 1150 Village Ridge Point, opened for the 2008-2009 school year, and now educates students from preschool through 5th grade. The new East Campus, located at 4303 Pinehurst Circle, opened on August 31, 2020.

Expansion of Lewis-Palmer High School and Construction of Palmer Ridge High School: Not long after Lewis-Palmer High School opened in 1980, additional classrooms were needed. A new addition in 1985 added 12 new classrooms, an auxiliary gym, and a central kitchen. In 1992, site work was done to prepare for the next addition that would open in 1997, which expanded the commons, added an auditorium, and included 100,000 square feet of classroom space. Substantial student growth continued and eventually led to overcrowding. To alleviate that situation, Palmer Ridge High School opened in the fall of 2008 with 9th and 10th grades; the Class of 2011 was the first graduating class. The school features the largest geothermal heating system in Colorado and includes many other "green" features that translate to reduced costs and lower environmental impact. Although they have the capacity to accommodate more, both high schools are designed to satisfy a projected population of approximately 1,000 students each.

Elementary and Middle School Reconfiguration: With reduced funding, lower enrollments, and increased maintenance costs at Grace Best Elementary School, the district made changes to its elementary and middle school configuration for the 2010-2011 school year. Grace Best students and staff moved to the former Creekside Middle School campus, which was renamed Bear Creek Elementary School. All elementary schools now encompass preschool through 6th grade, and all 7th and 8th graders attend Lewis-Palmer Middle School.

Home School Enrichment Academy: Beginning with the 2012-13 school year, the Home School Enrichment Academy opened as a resource for our home school families, offering enrichment activities one day a week at the Grace Best Education Center. Kindergarten through 8th grade students can participate in this program which includes art, drama, music, PE and exploratory activities.

Future Growth: As growth in the district continues and current and future subdivisions are built out, the student population is estimated to reach about 8,000. As this happens, the elementary and middle school configuration may be reevaluated, and an expanded transportation facility may be needed to provide for the increased busing needs. The district has a twenty-year growth plan that is reviewed annually and updated periodically to monitor growth projections.